You know you're getting older when summer becomes less about festivals and exam results, and more about weddings. These days, weddings are becoming more extravagant, with each couple trying to out-do the next, with the main question being 'how can we make this more memorable?'.
At the same time, the internet is becoming increasingly valuable as a research tool and with sites such as Pinterest- and the many, many blogs discussing how to save money on your Big Day- couples are also asking 'how can we do this particular thing, but cheaper?'. Yet we still see the happy pair willing to spend thousands on clothes, when they try to save on everything else. Why do we do this? Is it really because the high street doesn't provide the same quality as the classic catwalk brands? Or is it simply the fact that we enjoy putting a name to beauty?
The guests are no different- often spending hundreds on the finest dresses to hug their newly, neatly trimmed figures to parade in front of friends and family. Because, let's face it, when you believe you look good, you feel great and everyone has a much happier time when they're confident enough to shake their booty on the dance floor, to cheesy Golden Oldies. With that said, I like to believe I'm a master of finding a bargain and, for me, the high street is where it's at. So I've taken it upon myself to bring the simple elegance of wedding fashion to you, at a price that doesn't make your purse want to scream. Click on the images to get more details, directly.
Ribbed V-Neck Bandage Bodycon Dress-  Peaches and cream are popular at weddings for more than one reason. At a recent wedding I saw quite a few girls wearing outfits similar to this, so it doesn't scream 'original' but it looks smart enough to be considered formal and relaxed enough for drunken dancing at the reception- and at £48, it's no biggie if some drunkard if spilling beer everywhere. There's always one.
Waterfall Lace Dress– Another Topshop  beauty, this dress is perfect for those who might have a few lumps and bumps but still want to look feminine. The lace adds class and the waist cinches in to give instant curves- or highlight the curves you already have, in all of the right places. Another dress in the '£50 or less' pile, at £46, it's a great dress to treat yourself to and you can wear it out and about after the big day!
Berry Twist Midi Dress- Blessed with height? This is most certainly the dress for you! From Dorothy Perkins, at £20 it's an absolute steal and adds a splash of colour to what is usually a very bland affair. It's body-hugging fashion at it's finest, as it shows off your best bits without *ahem* showing your best bits.
Cream Stripe Midi Dress– A touch more daring now, this dress is perfect for us petites as the vertical stripes lengthen the legs and also means the design is more eye-catching, without being too overdone- if you've ever had the joy of talking to a bride a couple of days before the wedding, you'll know not to take attention away from Her Royal Higness. Trust me, you'll know. Another DP treasure, this one rocks in at £35 which again, is a real steal.
Antonia Short Dress-  A beautiful little number that screams elegance in it's simplicity. This dress is from Monsoon and is considerably more than our other choices at £119. It's a little too formal to wear on most nights out, but if you're heading to a wedding where you know the guests will make a lot of effort, this really would be perfect. It's also a good length, allowing you to show those pins, as well as your waist.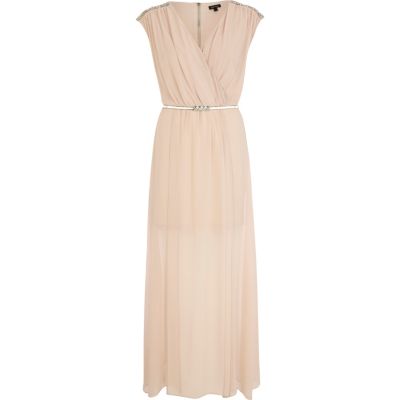 Beige Chiffon Maxi Dress– If you're anything like me, with a tiny waist but massive hips, you know just how difficult it is to find something that balances out your body so it's just right. Enter the maxi dress. The best thing about the maxi is how it covers up all the wobbly bits but still makes you feel confident and sexy. Chiffon is one of the more forgiving fabrics and you'll be grateful for how light it is, if the wedding is in a hotter climate (or on a rare day of sunshine, if you're in the UK). At £60 from River Island, it's at just the right price for you to still feel relaxed about wearing it around food and alcohol.
I also realise there's quite a few out there who aren't big on the dresses and there is absolutely nothing wrong with that- the most beautiful person is one who feels beautiful! My personal prefence in this case is wearing a pair of light coloured trousers and a brightly colour wrap top. You can find these anywhere, from ASDA to Zara, so go and have some fun, out on the hunt!
What do you think of our choices? Have you been to a wedding recently and noticed any trends? Let us know!