American Sniper - Cooper shines and Eastwood redeems himsef, but further exploration is needed to warrant the
Summary
Eastwood returns to form with dramatic War biopic that leaves some elements to be desired
American Sniper is the latest film from veteran director/actor/chair whisperer Clint Eastwood and stars Bradley Cooper and Sienna Miller. The film  is the adaptation of the autobiography of Chris Kyle; a SEAL sniper who killed over 160 people over four tours of Iraq, and became known as "The Devil of Ramadi" for his accuracy .
The film is gaining controversy in the US at the minute, with the political left branding it a "one-sided salute to a mass murderer" and the conservatives  embracing the film as the portrayal as a "national hero". Even celebrities have expressed opinions on the film,  and the more award nominations it picks up, the more polarizing  it seems to become. Seth Rogen jokingly likened it to "the film in the third act of Inglorious Basterds.", a reference to "Nations Pride" a Nazi propaganda film integral to the plot of Tarantino's 2009 feature. Perhaps the most controversial comment was notably liberal filmmaker Michael Moore's twitter comments who described snipers as "cowards" and followed with  "Snipers will shoot you in the back. Snipers aren't heroes. And Invaders r worse.". Soon after, Moore received some backlash for his comments, from twitter users and famous faces alike, including actor Rob Lowe who responded with "He's Kidding? Right?". So it was hard not to take the controversy and award nominations into account when the walking into the theater, and upon seeing a packed out audience, I could tell I wasn't the only one who wondered what all the fuss was about.
As I said in my review of Foxcatcher, If you don't know the story of Chris Kyle; then don't seek it out. I believe it is better to go into this film blind, but if you do happen to be aware of the story, don't pass on the film for that reason, as the film still delivers on a powerhouse performance from Cooper and a nice looking frame from Eastwood and cinematographer Tom Stern. Sienna Miller is also on fine form as Kyle's  Wife, who is devoted to him yet troubled by her husbands "death wish" of returning to battle over and over.
The story itself is simple ; Chris Kyle is your typical Texan every-man; strong, kind and protective of his country, his God and his brothers in arms. After witnessing terrorist attacks against his beloved homeland he hangs up his ranching boots and signs up for the Navy SEALS. The protective nature of Kyle is portrayed excellently by Cooper, and is seen by Kyle confessing not to feel depressed for the lives he has ended, but for the lives he could not save.  A pivotal early scene shows Kyle's Father telling his two sons about the three kind of people; Sheep, Wolves and Sheepdogs, and it is interesting seeing how Eastwood implements this character structure throughout the film. There are moments, when Kyle is back on US soil, his blood pressure racing, his senses overly alert, when he is more Wolf than Sheepdog and this is once again showcased by a subtle yet great performance by Cooper.
While people have said that the film is decidedly one-sided in its depiction of the war, and while there may be some truth to it being a little heavy-handed , I disagree that it is the "pro-war propaganda" film that some have branded it. It is true that we only see the war from America's perspective, but it is also true we only see it from Kyle's perspective. I believe however that Eastwood did not intent to make a film commenting on the war in Iraq and the politics that comes with it, he intended to  make a film about one man's experience; and it is not pretty. One of the most gut wrenching scenes involves a small boy pointing a rpg at Kyle's squad, while Kyle, terrified, watches from a nearby rooftop. There are a few scenes like this is in Sniper, where the savagery and brutality of war is presented to the audience, but thankfully Eastwood always reigns it back to Kyle, making it a personal film and not a political one.
However, the film does suffer from the same problem that I felt Angelina Jolie's Unbroken suffered from, that some of the most interesting elements from both true stories happen after their respective conflicts. The film could have progressed further than the war and touched upon Kyle's PTSD, his charitable work with people recovering from war and his sudden thrust to fame with his autobiography. The autobiography that the film is based on also shows a side to Kyle which is not shown in the film, most likely because it did not fit the sympathetic view Eastwood paints. Instead of a multi-layered character, it seems that throughout the film we mainly get two sides of Kyle, the polite young Texas family man, and the" legend", the cold, machine like killer. Perhaps if  more time had been spent on the other side of Kyle (where Cooper is at his most naturally charming) then the film would be slightly more well balanced and more emotionally investing.  As I said earlier, it is unfair to assume that Eastwood has attempted to direct a pro- war film, but some elements from this film are more distinctly black and white and not the grey area that War is.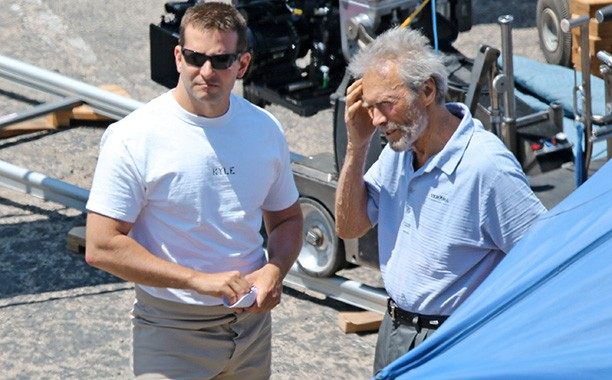 All negatives aside, the thing holding the film together is Coopers performance. I think he has taken a risk playing such a divisive figure and it is really his likability and his subtle performance that pushes the film along. But it is not just Cooper who had a lot on the line for this film (Chris Kyle's Father reportedly would "unleash hell" if his son was given a disservice in the film), Clint Eastwood is coming off the back of three relatively mediocre films (and one bizarre chair related incident) and had a lot to prove with American Sniper. I will say that this is in no way Clint's best film. Its no Mystic River, it's no Unforgiven and it's certainly no Gran Torino. However, it is a good film, with good performances and an thought provoking subject matter and has hopefully picked Eastwood out of his recent slump.